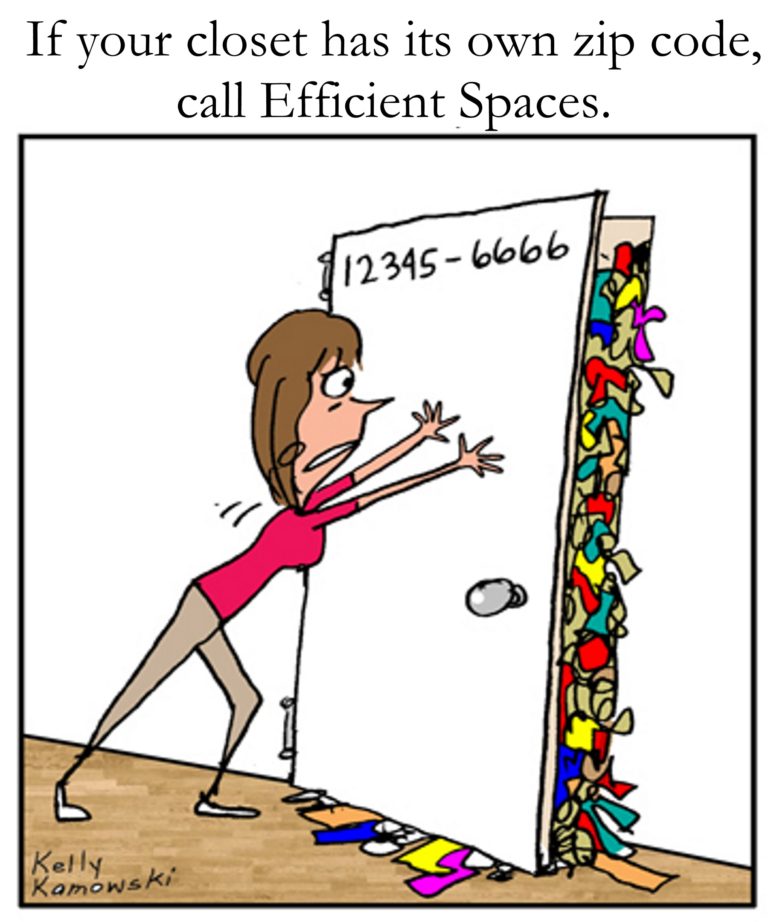 Clothes Closets, especially walk-in closets, are a problem area in many homes. If this is you, help is on the way!
Even though I am a professional organizer, I admit, purging my own clothes can be hard!
The problem with closets is they are out of sight, out of mind. No one else sees the master bedroom closet but you, your family, and maybe your cleaning person.
It's all too easy to let clothes and accessories accumulate over time in your walk-in closet. And before you know it, you are having to shove the hangers in because your clothes are packed as tight as sardines!
One common result of this is that you cannot see or remember what you have.
So, you end up buying duplicate items because you cannot find what you're looking for.
Which means you're spending hard-earned money to buy duplicate items! This is especially true for people who have more than one closet where they store clothes and accessories–they forget what they have in the other clothes closet.
And yes, I have had several organizing clients who have 2 or even 3 closets or a room full of clothes!
Questions to Ask Yourself
Before you even get started, it's a good idea to remind yourself of the WHY, why are you doing this?
(That way, you'll be in the right mindset to let go.) Next, let's look at this important question:
What is your WHY?
What motivates you to organize your closet?
I want to get ready faster.
I am tired of not being able to find what I need.
I know half the stuff in there doesn't fit.
I'd like to feel calm, not stressed, when I walk into my closet.
I want it to look pretty!
You are not alone! Thousands of women and men in the US want these things too. Did you know that clutter has a "negative impact on our subjective well-being"? It's true.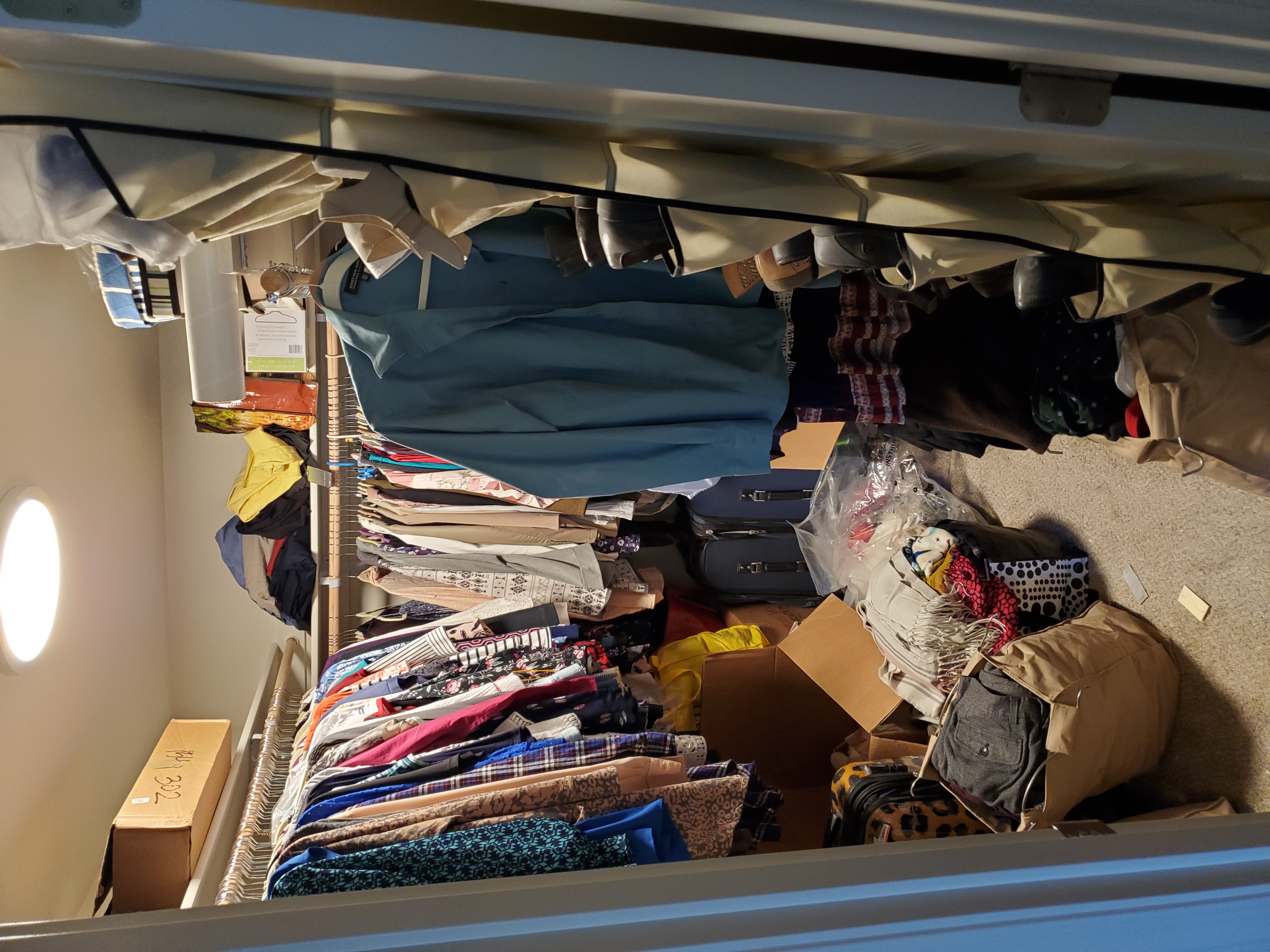 Did you know, messy homes leave us feeling anxious and overwhelmed?
Also, messy homes and workspaces leave us feeling anxious, helpless, and overwhelmed, according to a recent Huffington Post article.
If you'd like to feel better, purging and organizing your packed walk-in closet is the way to go!
The Great Closet Edit: Motivation
It's time to dig deep and find the strength to let go. Purging your own clothes is hard! So, get yourself into a tough mindset by using the questions in the last section.
In addition, a loving heart can motivate you to purge your clothes. Here's how.
I promise you'll have an easier time giving away clothes by visualizing the look of joyful surprise on the face of the person who finds just what they needed at a thrift store (thanks to your generous clothing donation.)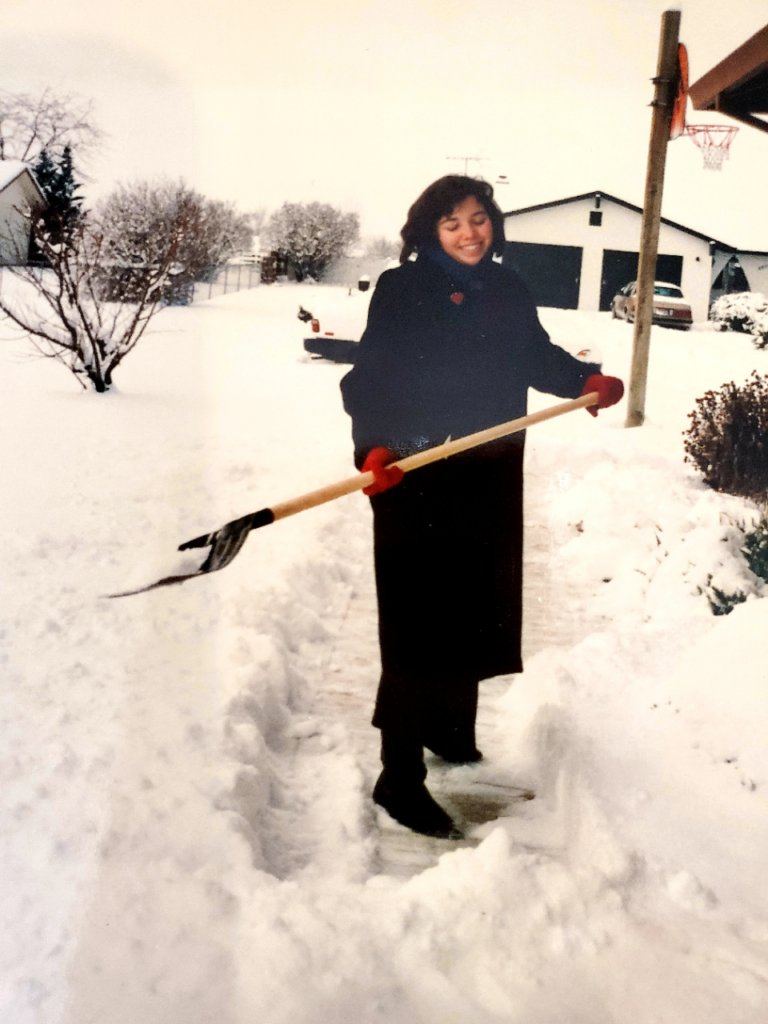 This is me on my mission, shoveling snow & wearing my warm thrift store find!
Circa 1990.
I remember when I was a poor college student in Provo, Utah. I needed a warm dress coat for my upcoming mission. I browsed at TJ Maxx and the coats didn't look very warm, so I decided to search some thrift stores to find a warm coat. (I had plenty of time, just not much money back then, so I didn't mind combing the city for a coat!)
I ended up finding a super-warm dress coat that buttoned all the way up and covered my neck—I was so happy! (Most women's dress coats have a V-neck.) It was constructed of thick black wool, lined with thick black satin, and lasted many years!
So, it will help to picture all the poor or low-income working people who can use some of the clothes you never wear—especially if that motivates you to let go.
The Great Closet Edit: The Purging Phase
The purging phase is the most important part of the closet edit.
I've come up with some questions for you to make the process easier. My hope is these questions will help you make good decisions you'll be happy with.
One caution: Do this when you are in a tough, not a lenient state of mind. If you under-purge, you'll regret it because you'll have to do this again in 6 months or live with a packed closet.
Helpful questions to ask as you purge your closet:
One: Does this fit?
That's a simple yes or no. If it doesn't fit right now, let it go. In some cases, I do allow a client to keep 1 small box of clothes which are too small. I call it the "skinny pants" box. 🙂
Two: Does it look good on me?
Definitely have a full-length mirror and some good lighting while you try clothing on! There will be some no-brainers here, but some clothes you are going to need to try on. Don't be daunted. Do it!
Last time I did this with a client, she tried on a whole walk-in closet full of clothes in just two hours, with my help.
Don't skip this step!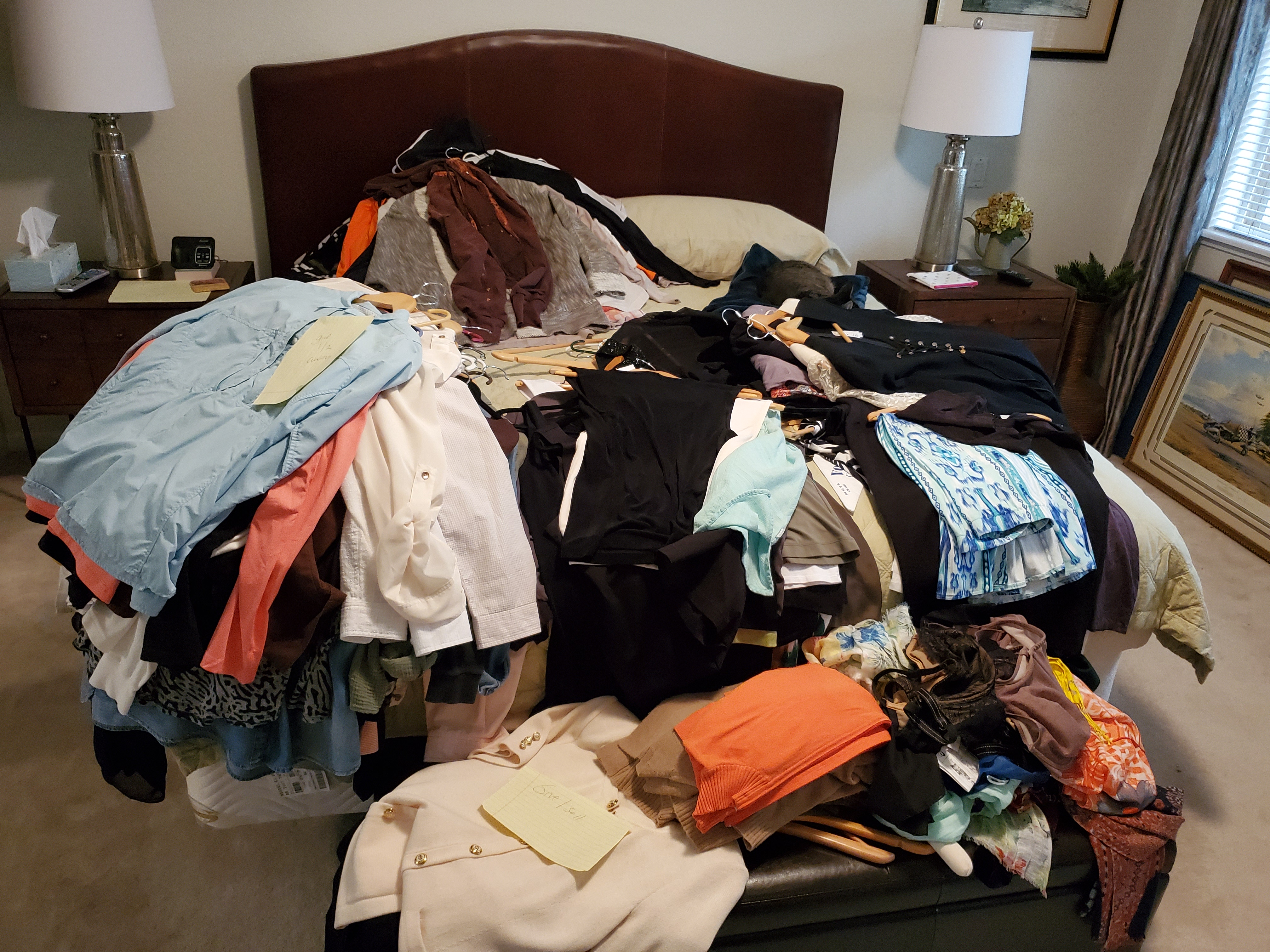 "A woman is never sexier than when she is comfortable in her clothes." ~Vera Wang
Three: This _______ has a past with me, does it have a future?
You may have had some great times wearing that sequined dress, but if all your kids have married and you don't go to swanky New Year's parties, are you really going to wear it again?
Four: If I saw this in the store today, would I buy it?
If the answer is an emphatic YES, then keep it. If you're waffling, or rationalizing why you should keep it, let it go, that's a nope!
Five: Am I letting the original cost of this item get in the way of letting it go?
Be sure not to let the cost of the item keep you from letting it go. It won't do you any good to let that fur coat sit in your walk-in closet taking up prime real estate for the next 10 years.
Sell it if that makes you feel better, but DO take it out of your closet and say goodbye!
The best thing to do, which takes the least amount of time, is to just let go.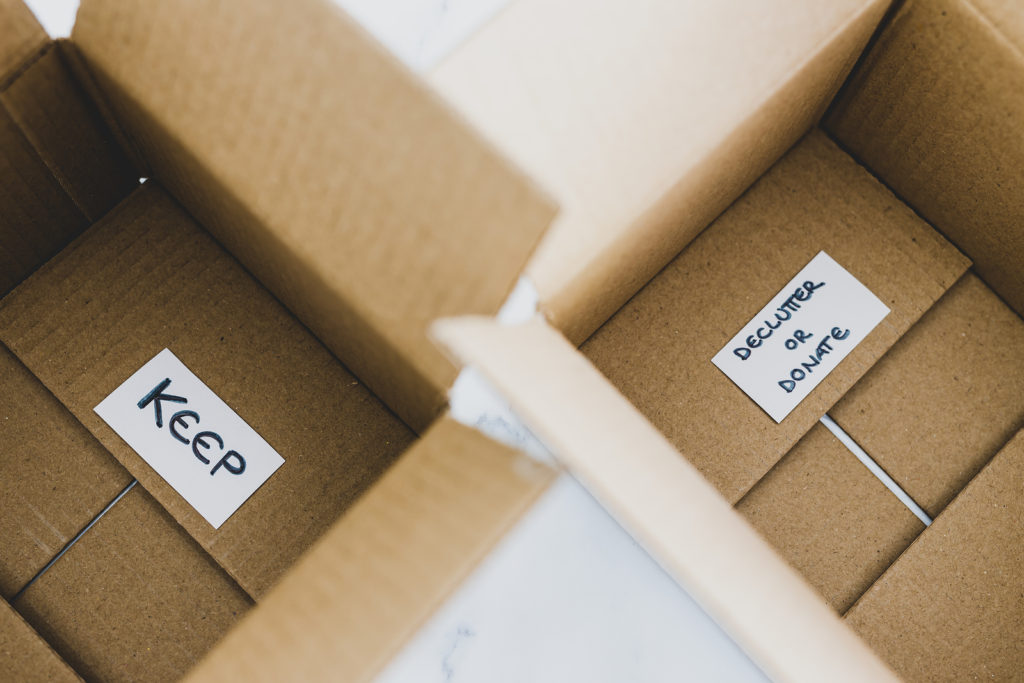 I recommend just giving things away so you can move on.
Here's a caution, though, take care not to make the donation process too difficult, or you won't do it. For example, some people have 5 bags of stuff going to different friends. That is too complicated, too much work! Much better to take it to one thrift store so those bags don't clutter up your house for months.
Make it easy on yourself and you're much more likely to do it.
Six: Am I being honest about wearing this ____ again?
Be careful not to make up big, unrealistic scenarios for when you might use an item in the future. Example: "I'll wear this one-piece hot-pink and yellow snowsuit from the 80s if I ever ski again." See how silly that sounds?
Be brutally honest with yourself in this process of purging and organizing your closet.
As I like to say: be ruthless, not reckless when you purge.
Conclusion
Purging is a MUST to have the pretty, organized closet you desire.
And just think; once you purge all the stuff you never wear, it's going to be so much easier to find what you want and get ready every morning. Not to mention, much faster!
Best of all, you can dress for work (or play) with a feeling of confidence now that you know everything in your closet makes you look and feel good.
Resources
"Why Clutter Can be So Bad for People With Anxiety (And What To Do About It," Huffington Post, 4/8/2021
The dark side of home: Assessing possession 'clutter' on subjective well-being. March 2016, Journal of Environmental Psychology, 46.