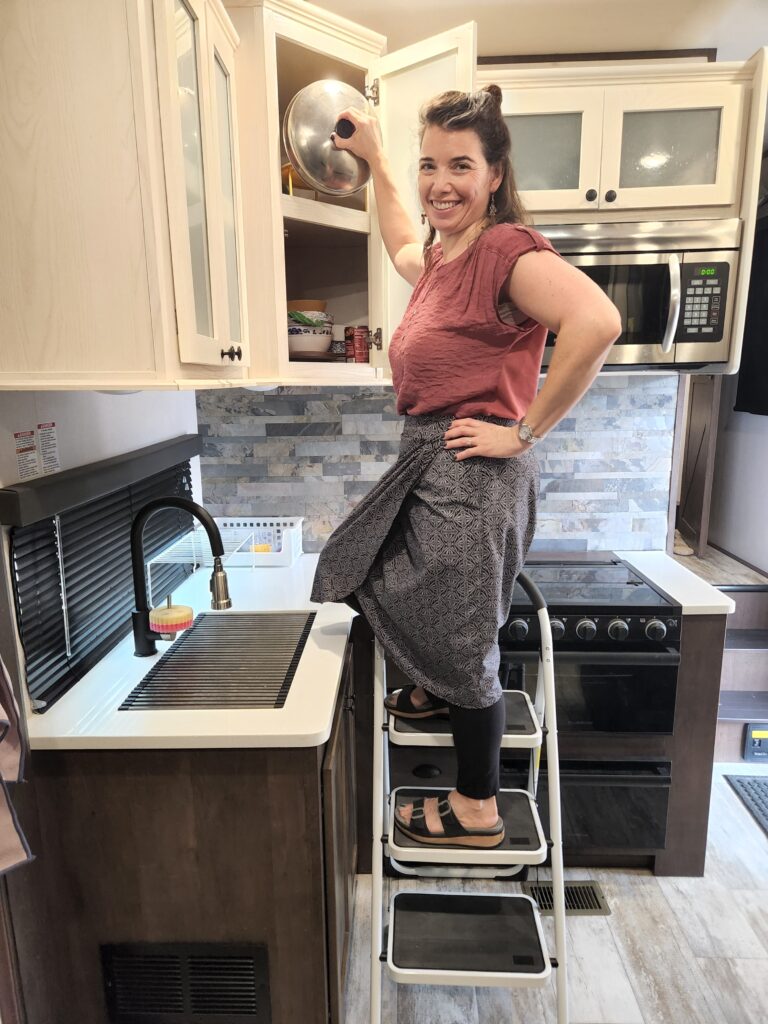 Ideas for RVs, apartments, and tiny houses
I've been taking some trips in my RV lately, traveling for about a week at a time for Comicons with my husband, a writer. I like traveling! I especially love setting up and organizing a new kitchen with space-saving gadgets. It makes our life on the road easier!
It will make your life easier, too, if you have a small kitchen.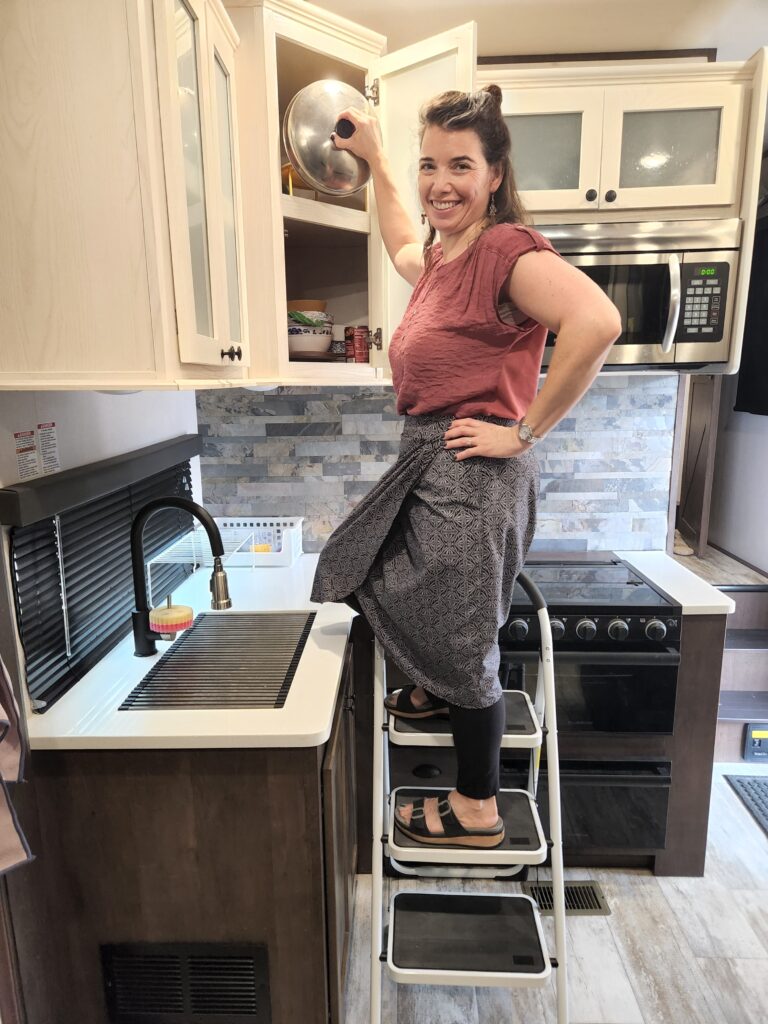 I have some ideas to help you enjoy your small space to the maximum!
Our RV is a forest River Nitro, and one reason we chose this one is the kitchen design. Some RV kitchens have a narrow 'galley' kitchen created by the island or peninsula, but we like this open L-shaped footprint for the kitchen cabinets.
To me, the kitchen feels more open this way. The only real disadvantage to this kitchen is the depth of the drawers, which are only 9 ½ deep! I had to improvise because a normal silverware organizer will not fit in my kitchen drawer. I'm sure there are things about your kitchen or apartment that require creative solutions. Read on for some great storage ideas!
But the kitchen in my RV has plenty of storage for food, dishes, pots and pans, etc., as long as you're willing to get on a stepladder to get to the 2nd shelf.
One way I solved the problem of not being able to reach the back of the cabinet is by adding a large lazy susan. It almost fills the space and allows me to reach three sets of dishes without going on tiptoe. That made it so much more convenient!
The Look Up Principle. A storage idea if you don't have enough space: whenever this happens look UP to find more space. And by this, I mean: look at your blank walls and even the space above your cabinets. These can be used for seldom-used items like a punch bowl or large vases.
A good general organizing rule-of-thumb is: if you use an item often, it needs to be closer to the hub of action. If you use it infrequently, it can be stored farther away from the action, even in a garage, basement, or attic. Just make sure to label it so you can find it when you need it!
To create a storage system for a kitchen, I always take a look at what I have for cabinets, then figure out a general idea for where to put things. Sometimes that plan is based on the size and shape of the cabinet.
Then I measure each drawer dimensions, including vertical space. I measure each cabinet too. Then I think about what kind of —– I can add to make my space as efficient as possible. To store as much food or kitchen tools as possible.
Either taking a short video or some photos helps with this planning process. Or if you're really into it, make a sketch of your kitchen and label the drawers and cabinets with the dimensions.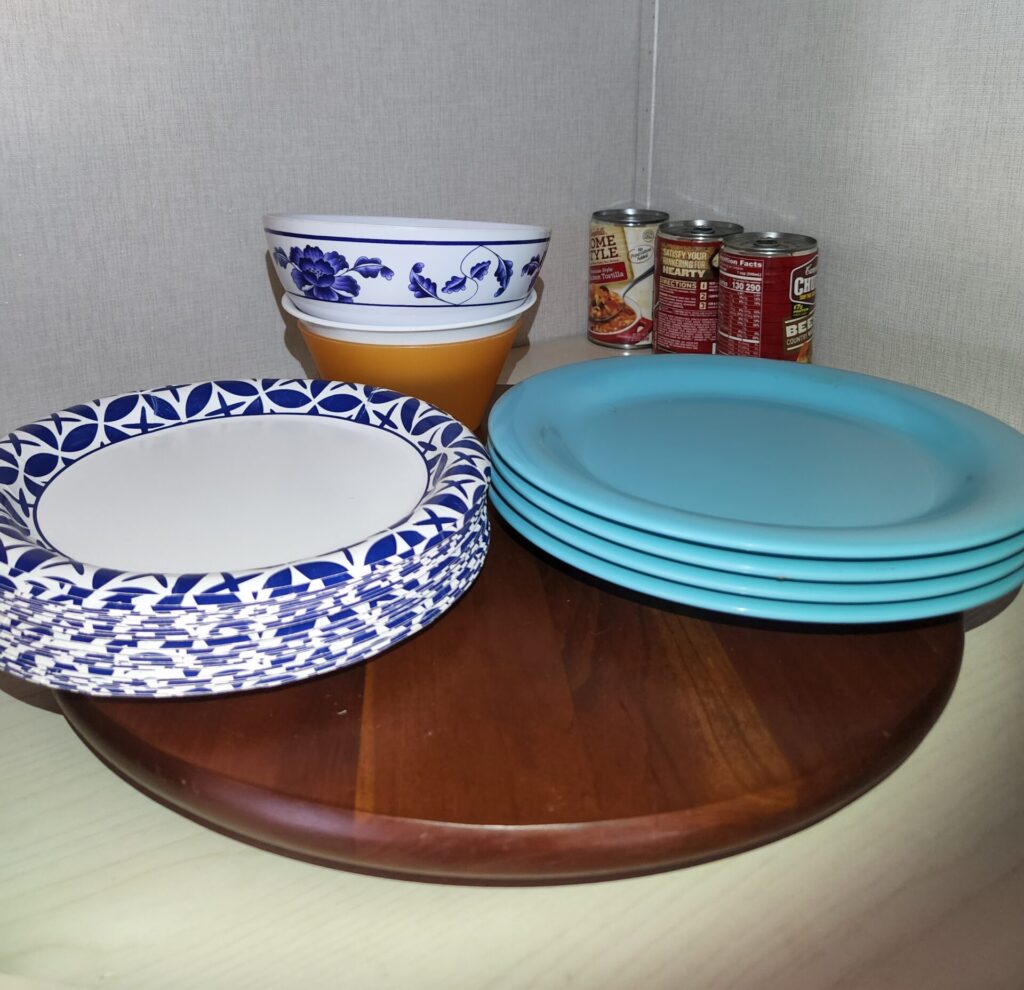 Space-saving Idea 1: Use a lazy Susan for awkward areas
For example, I have a large corner cabinet which is very deep. I can't reach all the way to the back without climbing on the counter or getting on a stepstool. As I mentioned before, I solved that by adding a large 18-inch lazy Susan, and by putting things in the 'way' back that I don't need to access often (I put some canned food there). By the way, I put bowls, plates, and paper plates on the lazy Susan.
Space-saving Idea 2: Create a shelf
One thing I noticed right away in the camper: there is too much vertical space between the kitchen shelves. And the shelves are not adjustable. My solution for this dilemma is to create a shelf using a wire cabinet shelf. They can hold a surprising amount of weight, and I usually opt for the ones that can stretch to be multiple lengths. Mine stretches from 14 inches to 24 inches long if needed. These are available at organization stores or some big box stores.
Space-saving Idea 3: Maximize counter space
If you like a clear counter, you're going to have to work hard to get it in a small kitchen. One way I do this: hang stuff up instead of using your 'prime real estate' counter space. This is part of the Look Up Principle. When you need more storage, look up.
Under-cabinet paper towel holders keep paper towels off counter.
Try a 'hammock' for bananas, they won't get bruised in transport! This genius idea was already installed in my former camper. Its just 2 hooks, a dowel with grooves at the end to hold the hammock, and a cute hammock made of string that attaches to the dowel with 2 loops.
Place a small catchall basket to containerize the little things. My basket usually holds a sleeve of crackers, flashlight, small tools, and tea bags. This keeps clutter contained and keeps emergency supplies handy should the power go out. This basket has to be regularly unloaded and we are careful not to let the amount of stuff expand and become clutter the kitchen countertop.
Use 3M hooks on the wall above the counter for small, light things you use frequently, like potholders.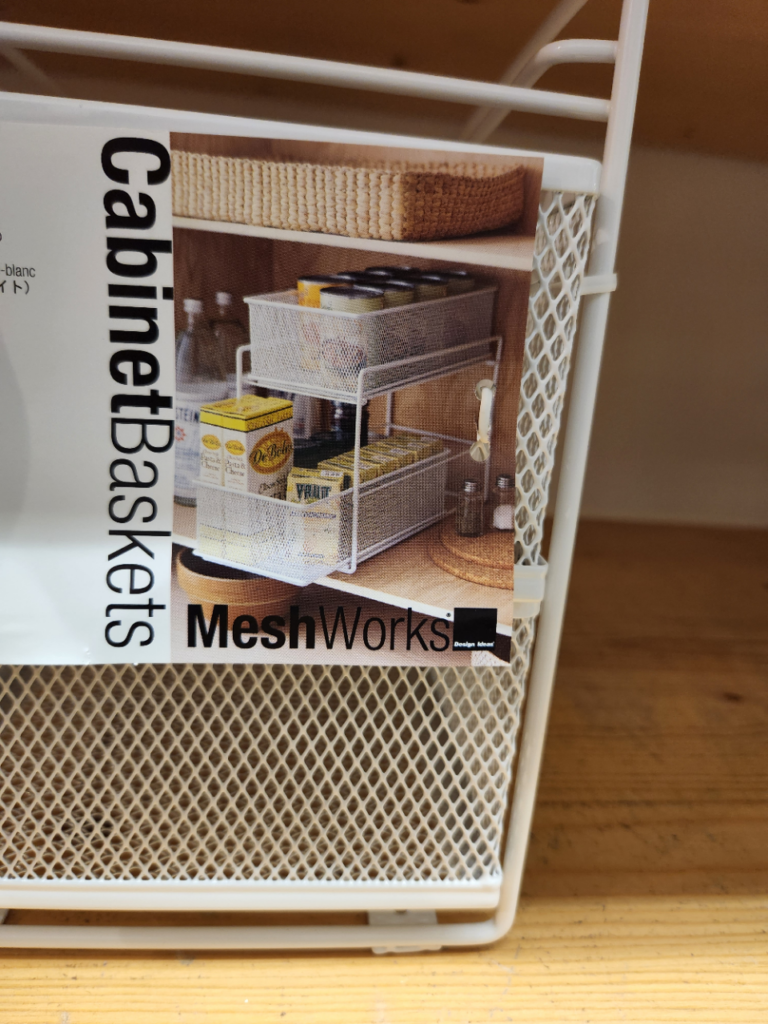 Think double-decker. I have used two-tiered storage under sinks and on counters before. They come in a few different sizes, and most of them slide in & out. Many of them are intended for the fridge, but would work great on a small kitchen counter (or inside a skinny cabinet). Most of them have a chrome framework and 2 plastic drawers. Some are about the size of a dozen eggs, and other units are bigger. It's a bonus if you can find some with clear or opaque drawers.
Space-saving Idea 4: Clear boxes
Just ask my kids, I love boxes. I especially love clear boxes because they allow you to see what's inside. You almost don't need to label them . . . almost. 😉
I have 2 very thin cabinets that aren't a very useful size. They're about 8 inches wide each, and again, the vertical distance between shelves is HUGE. The upper shelf is so tall I can only reach the very front of it on tiptoe.
To solve this storage problem, I use 2 narrow clear open-topped boxes. One on the lower shelf and one on the upper shelf. This enables me to easily grab the clear box from the top shelf, retrieve something I need, and put it back.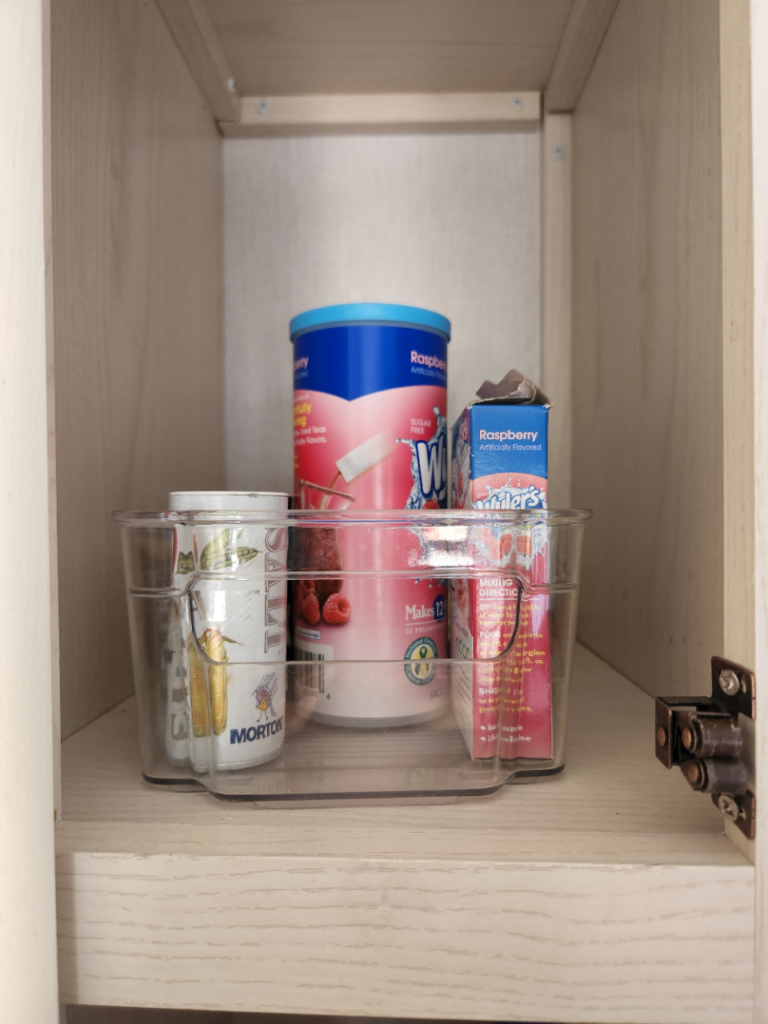 Clear boxes are a great idea for just about everything! you almost don't need a label.
. . . ALMOST!
Safety Tip: Make sure the one on the high shelf contains things that are light enough for you to easily lift above your head. Canned soup is NOT a good idea, in case one falls on your head while you're tipping the container to lower it!
Helpful Shopping Hint
Many times, Ross or TJ Maxx will have great prices on organizing products. The only downside is they have a lot of 'orphans,' so if you want all your organizing products to match, pick a color or theme and buy only those. (I haven't found matching containers all at once, I end up piecing my collection together over time.)
I opt for clear or white to have a more uniform look. But your style might be retro colors or black and chrome. Pick a style or color that makes you happy!
Conclusion
With small-space living, in a small apartment, tiny house, or RV, it is especially important to have a plan because space is at such a premium. Don't just throw a bunch of random stuff in a cabinet and expect it to work. Take time to analyze your space and use it intentionally. Your space will seem bigger when you are organized and things are put away. This will keep you from feeling claustrophobic in your own home
You'll be much happier with the design and more comfortable too!